Why Goat Milk Soap?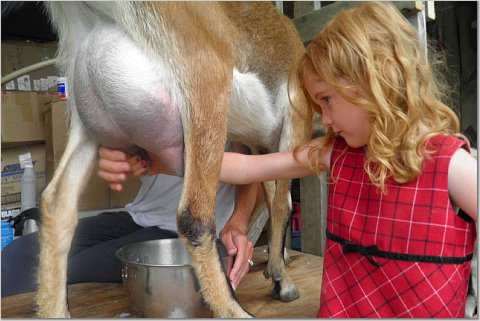 Our journey with goat milk has been an adventure. We got goats to provide drinkable milk for the family. You see, only one person in the house can stomach pasteurized cow milk.
For a time we tried raw cow milk and liked it but were still having issues as we healed our guts, not as many as with store bought milk though.
When we moved to the country and our raw milk sources were gone… we'd have to be our own milk source. No better place than a farm for that right? So we got a full sized, registered French Alpine that was in milk and we were getting a gallon of raw goat milk a day.
Pretty much had a whole fridge of just raw goat milk. We made cheese, ice cream, kefir, yogurt and still had left over milk, lots. We began to freeze it and then I agreed to try soap making.
I never thought soap making would amount to much because I'm not big on cosmetics and I don't like too many scents or dyes but I'll try most anything once… So, I made up a 100% from scratch uncolored, essential oil scented soap from our fresh goat milk for our family's use. It cured for ages and we finally tried it out. That is some good stuff we thought! My soap is not as colorful and exciting as the fancy, frilly handmade soaps you commonly see but you know what? The rashes from our food sensitivities, the dry skin issues, the breakouts- gone! We kind of hate regular soap now. A batch of soap is about 2 lbs of finished soap so as you can imagine, I didn't need to make more soap for a while. We did gift some soap to family and friends and began to get some great feedback from folks.
"Why don't you make some to try selling?" Nathan (my husband) asked. We needed to use up of stockpile of frozen milk so I agreed to make a batch to test sell. Would folks buy a plain colored bar that isn't crazily scented I wondered… I personally prefer essential oil soaps as they are more natural but they don't hold a real strong smell forever… and I know colors and smells sell so I got a soap fragrance and made a batch of pumpkin spice soap to sell. The rest is history. Over time I've tried various soap fragrances and colorants, they all sell quite fast. Our soaps are normally for sale at our farm market stand in Golconda, IL, plus in the Walker's Bluff General Store in Carterville, IL and we can sell soap online and ship it to you. Due to popularity our inventory is constantly changing but you can see the latest soap scents that are for sale at: https://squareup.com/store/ryder-family-farm/
Here is my most colorful soap yet, Sparkling Snowdrop:
Farmers Market folks are buying it up and reporting lots of great things about it. One lady said her daughter's sun spots are clearing up thanks to the soap. Another gal who has uber sensitive skin and breaks out in reaction to most everything says her skin loves the soap too. I'm not making soaps to fix ailments but I certainly believe that goat milk is very healing, it's why we drink it!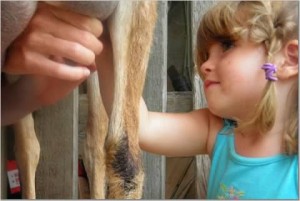 I was so interested in why the soap was doing all these great things for folks so I did some research…
Goat Milk Soap is best because:
It's nourishing your body's largest organ, your skin!
It's got antibacterial properties- this helps with breakouts and with healing plus it is cleansing.
It is packed with vitamins for you skin to absorb- not harsh chemicals.
Reduces inflammation in the skin due to the goat milk's fat molecule content. This also makes it super hydrating and luxurious feeling.
It's loaded with alpha-hydroxy acids that delay aging.
After I posted some photos of the kiddos helping me make a new batch of soap I was amazed by how many folks wanted to buy some of the soap and have it shipped. That is basically how I arrived at offering soaps for sale here on the site.
I'm still working on the shipping logistics for the soaps but for now the easiest and most straight forward way is to offer a flat rate shipping cost regardless of quantity or weight (it costs like $2.94 to ship a single 5oz bar!). If you want a single bar or two and don't want to pay the flat rate shipping cost you can contact me and I'll calculate shipping & invoice you for the individual weight of the soaps you want.
Yes, you can order online!
Here is the link to my online store for ordering: https://squareup.com/store/ryder-family-farm/