March on the farm was an absolute whirlwind. Not only did we have loads of spring stuff to accomplish (including the new high tunnel) but Covid-19 has been heavy on the mind- both for the farm and personally where our family is concerned.
The kids have been out of school since March 17th and will remain home for the duration of the school year while "remote learning". We are also looking ahead and trying to anticipate when social distancing might end and how that will impact our farm business.
Normally our farm has sold produce, eggs, soaps, fall mums and pumpkins at farmers market throughout the summer, this year will likely be very different but I think it is going to be in a very good way.
We have a new project planned to make shopping with us even more enjoyable, stay tuned!
Our farm has already adapted to serve you better.
We are able to take electronic payments and schedule on farm pickup for goods sold. This was something we tweaked just after our state issued social distancing recommendations last month.
Our farm fresh eggs and goat milk soaps are available for sale 24/7 online with inventory updating daily. You may order & pay online for pickup and we will prepare your order, leaving it on our porch for your future collection. Of course you are also welcome to check out all that we have going on and we can chat outside from more than 6ft away when you pickup your order too. It is all up to you.
We have also added a product delivery option to our online store for nearby folks that might need items delivered to them. Just visit https://www.ryderfamilyfarm.com/ and click on "Shop" to see what is in stock right now and to place your order.
Local produce is coming!
Our gardens are already seeded and the seedlings are already growing.
Very soon we will have produce for sale and we will begin packing weekly spring goodies just for for our CSA families. Yep, this is our veggie basket program (you can still sign up!).
As items become available we will update inventory in our online store and we will email/ post to social media about the new offerings as they become available. Be sure you are on our email newsletter list and following us on social media for the latests updates.
A timely expansion to feed more of the community.
Yesterday the plastic went up on our brand new high tunnel that we built on our farm. This is amazing news for us and it will greatly expand the number of community members we are able to feed in the future.
With the high tunnel in production this summer, we will have even more produce to share with our community. We are working on ways to reach customers with this abundance of produce so stay tuned.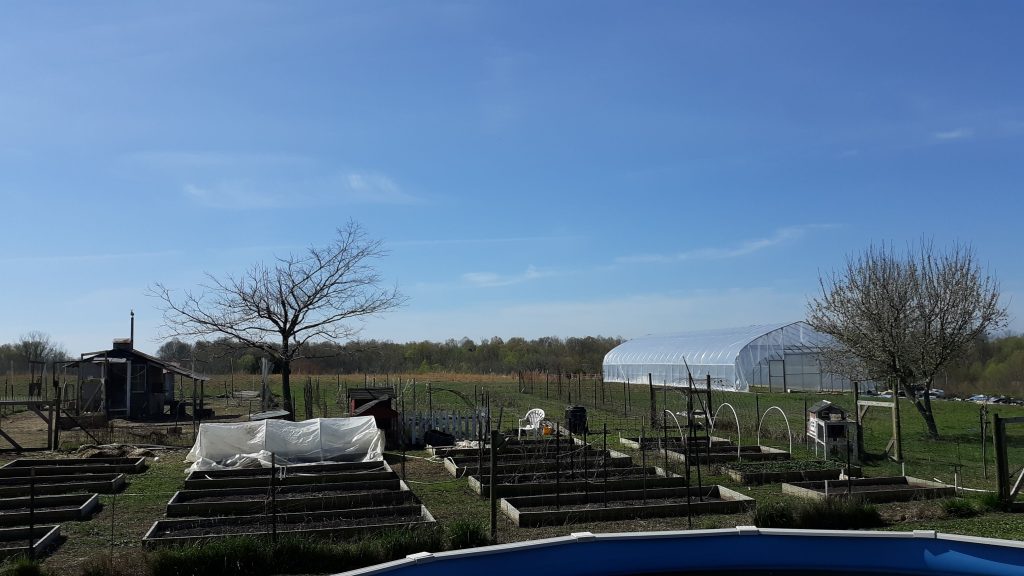 As you can imagine, interest in our weekly vegetable share program (our CSA) has skyrocketed during this time of panic buying. Security can be found in locking in a prepaid, reserved for you, weekly allotment of farm fresh produce from a trusted source. Where our produce is concerned, the absolute best way you can secure our produce is via this CSA program.
We are blessed to have the ability to add additional families to our program, even before adding the high tunnel. Now that our food production is about to ramp up, we are able to add more availability to the CSA program. Be sure to check out the details and sign up here-> Yes, you can still sign up.
New life continues…
These uncertain times can certainly weight on the mind but one thing is for sure, life continues on. Scotchie our sheep had twin lambs for us today! Also, the Killdeer nest out in the pasture is full of new three babies.
The garden seedlings and transplants are busy taking root, the birds are singing the bees and butterflies are fluttering around… Life is good. Just gotta stop/ refocus to enjoy it.
How are you enjoying life and slowing down today?