Hope you all had a nice holiday weekend! Here we set record rainfall totals with our weekend long storms. For many plans to grill were scraped. We didn't let a little rain ruin our fun though. We waited for a short break in the storms, it was very late at night but we grilled burgers and were happy.
Last night was the worst of the storms. We had a crazy night with power flickering, lightening flashing and thunder shaking the house. Everly was startled many times by the lights and sounds of the storm before we crawled in to bed.
Once we were both in the bedroom and trying to sleep she calmed right down though. She's a pretty good night sleeper, even in crazy storms!
We were pretty motivated to get more of the garage under control this weekend too. We hauled in my boxes of cow kitchen decor and unpacked those.
I have quite the collection of cow stuff as you can see. The collection has been growing for almost 10 years.  I even found this cute cow drawer pull in the collection and installed it on one of our cabinets, now I've gotta find some more cute cow drawer pulls for the whole kitchen. I love cows, LOL!
Anyway, I've had a few spare moments this morning to get all the contest entries in one place so I could draw a winner. I am still getting the hang of this contest thing.
Updated Sept 10th 2009:
There were a total of 54 entries to the contest and number 43 is the contest winner number 43 never contacted me so I'll be drawing a new winner. She'll have 72 hours to claim her prize by emailing me her contact info.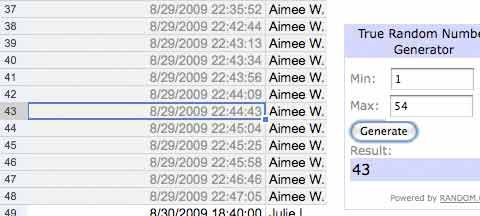 Oh, and I've launched another contest: Read about it here.