It's only taken me 25 days but I believe I am almost back to my normal self again. Dang, those postpartum hormones are killer! Add them to the 4th degree tear and to the normal new parent postpartum stress and healing and you've got yourself one bloody, stitched up, stress filled emotional mess of a person.
It was a rough three weeks getting used to our new roles, especially for me and my crazy after birth hormones. I am feeling good now (hormonally speaking), the postpartum bleeding has just about stopped and my stitches (from what I can see) are practically healed up.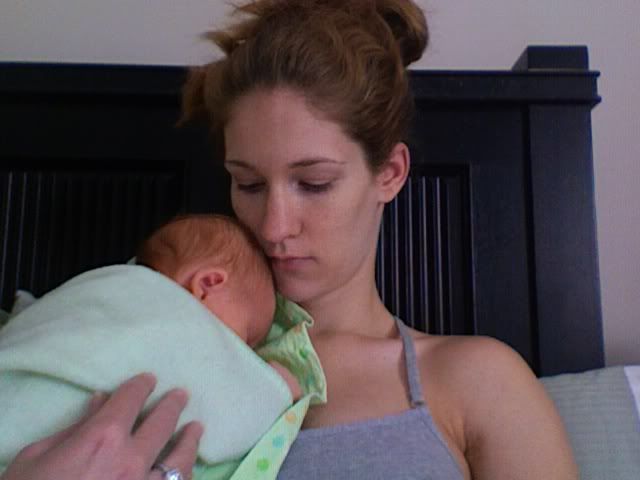 As you can see from the photo, I am getting good at holding Everly in one hand while doing the internet thing with the other. I am still struggling with the self care while caring for a newborn thing though…
You see I've lost about 40lbs in 25 days which brings me very close to having my pre-pregnancy body back. I am attributing that to genetics and the fact that I am breastfeeding. I wont be comfortable loosing much more weight though.
Also, I am having a very hard time finding time and freeing both my hands so I can prepare food to eat. That probably has something to do with my quick weight loss too. We are working on that, it's just hard to walk away from Everly while she's fussing.
Yep, she's still fussing here and there. She's a great sleeper and a very good baby when she's not uncomfortable. The problem is she's still got an immature digestive system (like all newborns) and she doesn't like pooping or passing gas for whatever reasion.
She'll fuss and struggle and wont sleep when her tummy hurts, she startles in apparent pain whenever she starts to doze off. I've tried eliminating common allergens from my diet (which leaves me starving), we've tried digestive enzymes, gas drops, exercises, tummy time, burping and massage. Nothing helps her poop and pass gas without the fussing and struggling. She's fussing a ton today actually.
The nighttime nursing and exhaustion aren't even bothering me all that much, it is the fussing that is the worst. Other than the fussing things are going really well.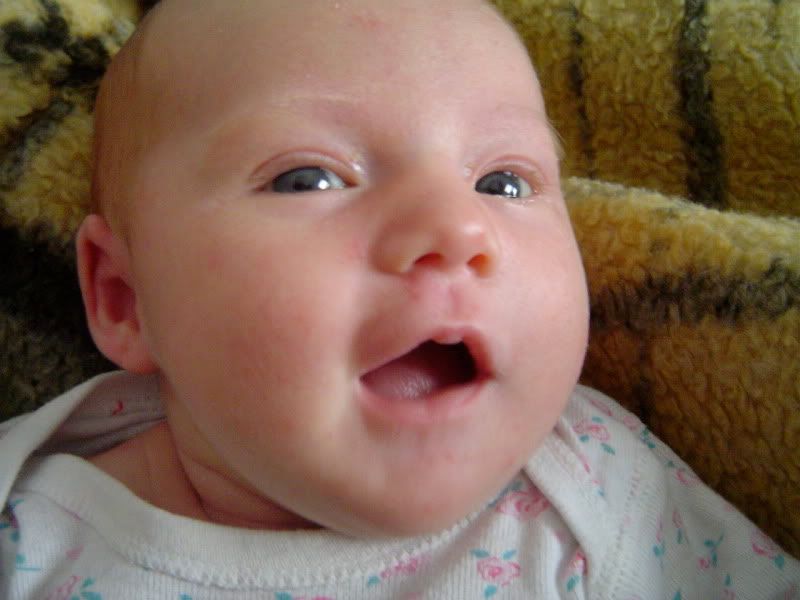 She's smiling more and playing mimicking games with us these days. Her red hair is getting pretty long in some areas and she's getting so big! Almost 11lbs it seems according to our bathroom scale.
In just a few weeks we'll be heading back to The Farm for Everly's 6 week checkup and we'll have an exact weight for her then. I am pretty excited to go back. Pamela, our midwife, is so calming and supportive so we can't wait to visit with her. We'll probably stay there a day or two if N can get the time off work. The quiet time together will be a nice bonus too.
In other news we got Gabby, our newest kitty, fixed today (finally) and am so darn glad! Now Boner just needs to be fixed and we'll have all the pets spayed or neutered. It's good too, we don't need anymore madness going on around here. Everly's fussing is enough.