Yesterday while N was reading his magazines and books in the living room he heard a loud creaking sound. Initially he though it was a tree branch falling down like they all did the day Hurricane Ike blew through Evansville and we had to chainsaw tree to prevent phone lines from ripping and whatnot.
When he turned around to look at what was falling he saw the strangest thing, a toppled street light in our neighbors yard!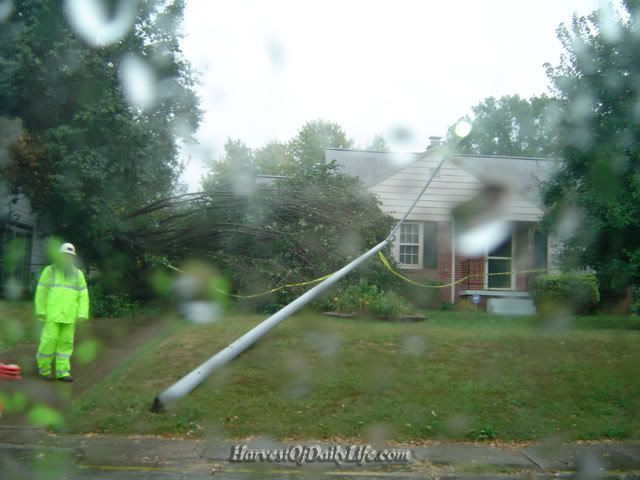 We watched the residents of the home pondering the situation and walking the yard on their cellphones. We figured they were calling the power company and the insurance company, you know notifying the authorities.
45 minutes passed with no sign of the utility company. N and I thought it was odd. Then the police officer that lives down the block was coming home from the 3rd shift and noticed the light that fell down. He talked to the residents of the house, check out the situation and then radioed in a call about the incident.
About a minute later a fire truck had arrived and shortly after the electricity company arrived. Actually 6 trucks from the utility company pulled up and they kept their trucks running the whole time they assessed the situation.
N: "You'd think the energy company of all people would understand the savings of not keeping their vehicles running when they are not in use."

Me: "Well maybe it is because they want to be prepared to speed away if something bad happens."
So that is what's going on in our neck of the woods. Anything crazy happening with you?