Monday nights sleep was tons better in the Winnebago than it was the previous night when we slept on the floor, so that was nice… N can't straighten his legs in the bed though, it is literally jammed with stuff so we have little space to stretch out. Sleeping on a cushioned surface always beats the hard floor even if you can' extend your legs!
When the sun rose it woke us up then my mom informed me that our only door to the RV was broken and she could not get out of the Winnebago. Turns out the door handle mechanism slipped from the door and made the door handle useless. I had to climb out the passenger side window to open the door from the outside so we could all escape the Winnebago. We were temporarily trapped, good times!
In the first photo below you can see my butt inside the window as I hang my upper body out the window to reach the door handle.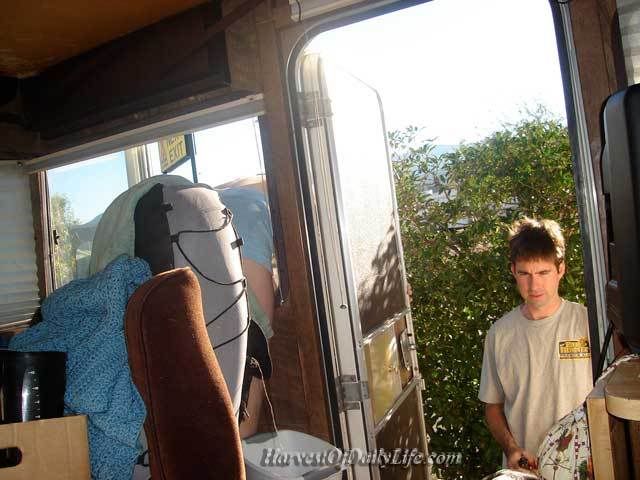 N took the door handle plate thingy off and then we were able to manually open the door and exit the Winnebago. Having major motor home mechanical drama before your first cup of coffee first thing in the morning is never a good thing! You can see how put off we were by the incident in these photos:
In the above photo my brother and I inspect the damages and try to understand the mechanics behind the door issue. He is not jazzed about being up so early like the rest of us. Even more so when my mom begins snapping photos of it all.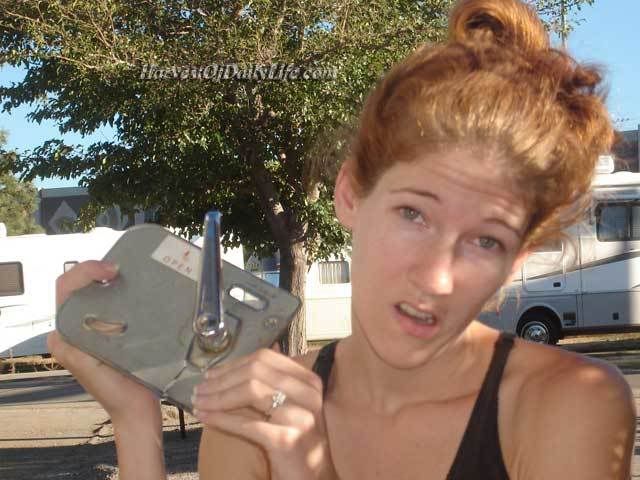 After we got through the door dilemma things were pretty incident free for our second day of travels. We departed Albuquerque, NM at about noon and went through New Mexico's smaller cities & towns as we headed towards Logan, NM to stay the night.
We did stop in Santa Rosa, NM to visit the Route 66 Auto Museum, we also visited Tucumcari, NM where we saw the Blue Swallow motel and ate at Ken's Ice Cream and had an interesting experience. Right next to Ken's Ice Cream there was a diner that had a sign in the window about their grits that got N going.
We were quite delusional at that point and N looked over at the grits sign and thought it said "nasty grits" he promptly busted his IPhone out to snap photos of the nasty grits advertising while he was cracking up.
At Ken's Ice Cream we had a less than pleasant experience. It took the order taker like 5 minutes to take my mom's order after N and I ordered our stuff. I know in smaller towns a slower life pace is to be expected but I just didn't expect it to carry over in to customer service that much.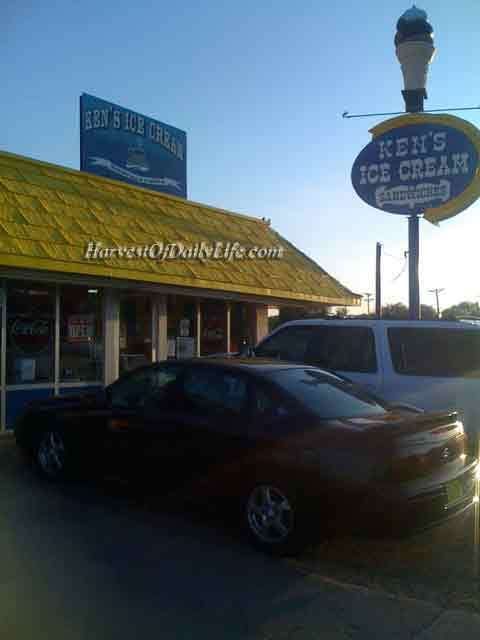 I ordered a hot fudge Sunday and it was awful, my mom also got a hot fudge Sunday but she opted for sherbet ice cream instead of the standard vanilla ice cream. On the way out the door my mom also asked some random cowboy if there was a Starbucks in the town that he knew of. We needed some liquid crack and some internet access. Unfortunately, there was no Starbucks to be found so we didn't get to publish our blog entries.
After our ice cream run we headed to our overnight destination, Ute State Park. This site boasted lake views and swimming. We had our hearts set on staying in spot # 11 because all the RV camping books said it was the best lake view site. Problem was that it was pitch black and we could not see any site numbers as we were searching fro our spot. A site map was not provided so we were kind of on our own to find an appropriate spot.
Eventually we pulled in at spot Y18 and ate our chicken and dumpling dinner before turning in for the night. Of course, we did get to snap our traditional campsite group photo and many other photos of the day that I have spread through this post.
Check out the next posts in the series:
or you can checkout the previous posts in the series:
Powered by Qumana