This morning I got an email suggestion from Teeni with a yummy suggestion to help us conceive, ICE CREAM (you can read the article here)! A book called The Fertility Diet
offers suggestions to help you conceive, like having ice cream and other dairy fat times. Another book I have been eyeing about this very same topic is Fertility, Cycles & Nutrition.
Turns out I'll be needing to read these books for solutions because my doctor has not offered anymore insight into what is going on with my body. I got my blood test results back, via a little generic note that came in the mail on Friday.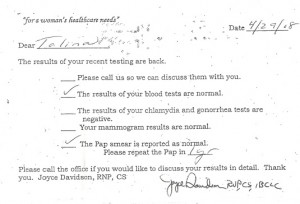 After being told I "am not ovulating" at my annual exam by my doc I went across the hall and the ultrasound tech said I had either ovulated or just passed a cyst. They drew blood and sent me on my way to stress out about what is wrong with me.
Weeks later the result is, nothing… Nothing looks wrong with my blood hormone levels. So did I ovulate or not last cycle?  If so was it on a different day than my chart reflected because we had intercourse on that day and I am NOT pregnant! Are they

wrong about my low body weight and my estrogen levels now since my blood results are normal? What is the next step?
Allow me to pause for a moment and scream…. (again this image is not mine, I found it via google images. It belongs to: http://home.earthlink.net/~regina-r/maintain.htm
So, what is the solution? NOTHING! This is why I am not so fond of modern medicine.. they don't know much and seldom help the situation. So I am going back to doing things MY way which is the natural way. I have no idea why I didn't get pregnant last cycle if all is working the way it should.. Maybe I was just not the right time huh?
Well, I am still charting and am paying close attention to my cervical fluids.. We are getting closer and closer to fertile looking cervical fluid so we will just try again and see if we are successful. I am eating more foods, trying to get all the unnatural crap put of my diet and will continue to look for natural ways to do right by my body, hopefully it all works.