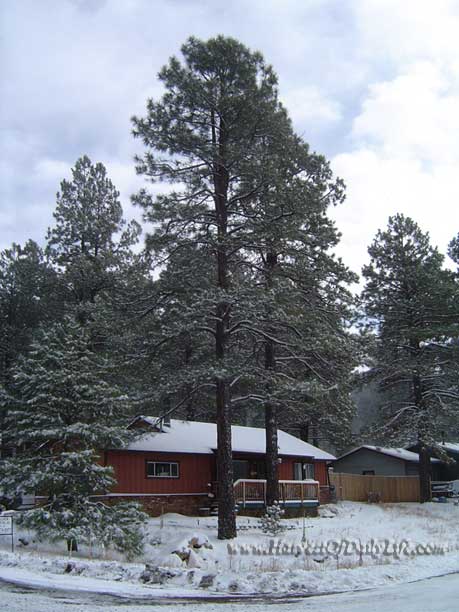 Well, school was canceled today! It's a snow day because the roads are not clear.. They are very snow packed. It's such a pretty sight! When we first move into this house (we are renting) we didn't think we would be her for the holidays because we are renting on a month to month basis since the house if for sale. We figured the house would sell soon and we would have to move out. Surprise, the house has not sold because it kind of over priced and the economy is not doing so well so we may not have to move for a while!
This house would be a nice started home for if it was not so over priced. It's a 2 bedroom, 2 bath little home outside of town. We want to live outside of town because we enjoy the wildlife and the forest living. Maybe when the housing market drops more so will the asking price of this place!
We put up or store bought Christmas tree (we could not make it out to cut or own down in the weather) last night with the fire roaring. The fire is still going and we are keeping warm while looking at the tree.
I also published the December edition of Motivational Writing over at Gather. If you are looking for some advice or tips on getting through the holidays while staying positive and happy you should check out the article!
So today I have to figure out how to get sweat stains from the arm pits of shirts. I have a few shirts that are pretty awful looking and I am afraid they have gotten so bad that they can't be cleaned. I have tried soaking them in bleach and also in peroxide.
 Now I am turning to my online friends for advice.. What is you best homemade remedy for pit stained shirts? Please help!
Oh, if you want to see a video of my doggie and boyfriend shoveling the snow you can by visiting this link that takes you to my gather contributions.