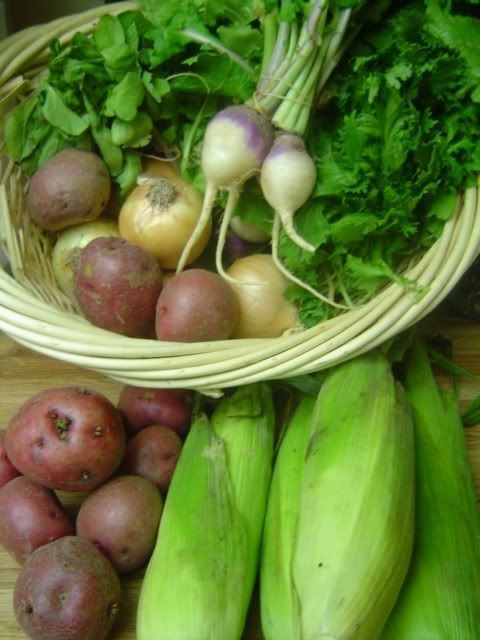 We are experimenting with different foods now that we have our weekly basket of fresh vegetables and fruits from the Flagstaff CSA. This week we got Arugula (which looks like spinach but tastes zestier), Mustard Greens (these greens really have the spicy mustard taste), yummy Pomegranate, some sweet potatoes, garlic, a salad mixture and some onions. We are really enjoying being a part of the local CSA. It's nice to know where your food comes from and to be supporting our community farmers.
We learned this summer that some foods may seem weird but they are often very good. We were turned on to lemon cucumbers (they are juicy, great for snacking and yummier that regular cucumbers), we made pickles out
of these really strange spiky cucumbers and we love "cinnamon pickles" (they are cucumbers pickled with pear, cinnamon and some other good things and make for a sweet treat).
The challenge is finding recipes or ways to prepare the foods we have never had before. That was the case this week with the Arugula. I went online and searched for recipes and found a perfect one @ www.recipezarr.com. I didn't want to reprint the recipe since it is not mine and I didn't ask for permission to reprint it. If you are interested in trying the recipe visit here: For The Arugula & Chicken with Pasta Recipe.
I did however take pictures throughout the preparation to make your mouth water! The dish turned out really well and I recommend trying it if you have Arugula on hand! Now I just need to find a mustard greens recipe!