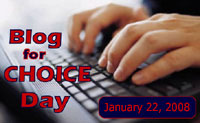 I read about blog for choice day over at Sleepless Nights and am sad I missed "the day", better late than never right? So here I go!
I am a very pro choice and cannot believe that so many are okay with giving up their freedom to choose. Freedom is what this country was built upon but with freedom comes responsibility.
I have never aborted a pregnancy and probably never will but that doesn't mean that others shouldn't have the right to.
What if a woman or girl was raped and became pregnant? Should she have to carry and deliver the child against her wishes? What if a life altering disease will be passed on to the unborn child from the mother at birth? What if the unborn child already is sick and will not live to be a toddler? There are a number of varying situations where abortion could be considered the better alternative for a particular person…
Every person should have the right to choose what is best for them based on their own morals and their situation. Just because it is right for you doesn't mean it is right for the next person. That is the beauty of freedom and diversity.
My point is that our country is full of diversity, everyone has their own situations and circumstances and forcing one choice or way of thinking on to everyone is just ignorant.
Women will still abort unwanted pregnancies even if it's against the law. They will put their lives and possibly the lives of others in danger if they feel they need to abort the child. Do you think this is better than clinical abortions? Trust me it will be more inhumane if they have to take matters into their own hands and they will if you force them!
Trapping people or forcing them to act out what you believe is best will not make things better, it will make them worse. If we are so upset about abortion why not go to the root of the issue?
Most hate abortion because it has been used as a convenience to those who were irresponsible and careless but instead of banning the end result we could could focus on the issue that started it all- sexually irresponsibility.
Like I said with freedom comes responsibility, some are irresponsible so what should we do? Take away the freedom or teach responsibility? I don't know about you but I am fighting for my freedom of choice!