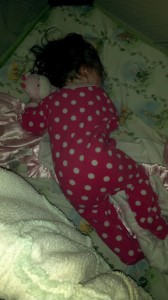 Bob Marley tunes can be heard all throughout the house…
Rockabye Baby! Lullaby Renditions of Bob Marley
is the soundtrack for bedtime for Everly and has also begun with Adalyn, except they are sleeping on opposite ends of the house… Still. You see, just today I just moved Adalyn's bed about 10 feet from my bed. Before she was sleeping about a foot from my bed and some nights she'd even sleep in my bed when she was waking every hour or so.
She's still not sleeping though the night, she's waking about twice a night (once before I fall asleep and once in the week hours of the morning while I am asleep) on her good nights.
No, this isn't a blog post about wanting to "get" my baby to sleep all night.
I know there are good (and normal) reasons for baby to NOT sleep all night long. However, this night-waking-knowledge doesn't make me happy about the nighttime wakings… it does keep me from trying to artificially alter or supress her own individual nighttime needs. This is how we've made it 11 months with sometimes hourly night wakings.
I moved her bed so that we can ease in to some night independence, she is almost a year old now. However, she's had a slower start to things since the gut health issues tied us up so much in her newborn months. Her rolling, sitting and crawling as well as her physical growth (like teeth, weight gain and height) have also been slow coming.
Things are picking up now that we have found the right path but I know that this lost time (spent crying 24/7 and not leaving my arms, ever) from the newborn days impacts all we are experiencing today.
The last year has been a long road but things are now settling in place, I think. Of course, once we get this all straightened out something else will throw us for a loop, like 3 yr old craziness.