[POPUP=IMG1] At the furniture store we started drooling over the amazing memory foam mattresses. They were great to lay on and we thought they would really help me sleep more comfortably when the pregnancy weight sets in. Besides our mattress is older and is becoming a bit uncomfortable these days.
Speaking of pregnancy weight today my pants were on the brink of not buttoning. Usually my stomach is about level with my hip bones. I am still measuring 25 inches around the smallest part of my waist but when we measure over the largest part of my stomach it is 30 inches.
Here is a photo of the belly, it is my first "belly shot".
Now get busy placing your vote on the Talina's Baby Weight Contest okay?
Okay, back to the memory foam mattress now. At Sam's club we spotted at $150 mattress topper that looked pretty nice but we opted to not spring for it at the time. Today at Walmart we spotted a similar mattress topper and ended up buying it. It is a Canopy 4" Hypoallergenic Memory Foam Mattress Topper. There were also 1 and 2 inch toppers for cheaper but we figured the thicker the memory foam the firmer it would be.
Turns out despite us buying the 4 inch mattress topper we only actually get 1.5 inches of memory foam material the other 2.5 inches is simply "base foam" which is just plain squishy and does not support you at all.
We are pretty peeved. Plus the size we bought was "queen" but the actual foam topper is really an inch short on each edge so it does not cover the mattress fully.
Needless to say we are not 100% pleased with this particular purchase. We'll be sleeping on it tonight just to make sure there is no chance it is "the amazing mattress topper" we thought it was. Then we'll be returning it.
Oh, wait! The insert that contains the directions advises of the "newness" scent of the memory foam. They say to air the mattress topper out for 8 hours before use. They also say that some consumers may be especially sensitive to the "newness" scent and may have to discontinue use and return the product.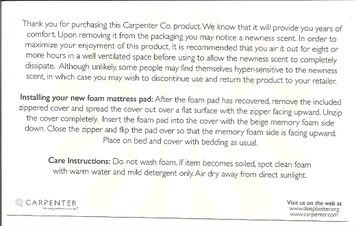 Well, since I am a pregnant lady with a highly sensitive sense of smell the "newness" scent knocked me off my ass. I am sure it is some combination of toxic chemicals because the "newness" is burning my nose! Time to get the dang toxic and useless mattress topper off the bed and out of the house. So much for comfortable sleeping huh?
Anyone have a good memory foam mattress they want to recommend or all they all crap?