Yesterday was quite eventful but I was too lazy to blog about it. The baby forced me to take a nap instead ;-
Basically N woke me up at 6 am with his uncontrollable sneezing, he is having trouble with Indiana allergies- fun times. This prompted me to empty my bladder in the dark. So I walked face first in to our closed bedroom door, backed up and felt around for the door handle, opened the bedroom door, stumbled to the dark bathroom and peed in the dark. Then I stumbled back to bed and resumed sleeping.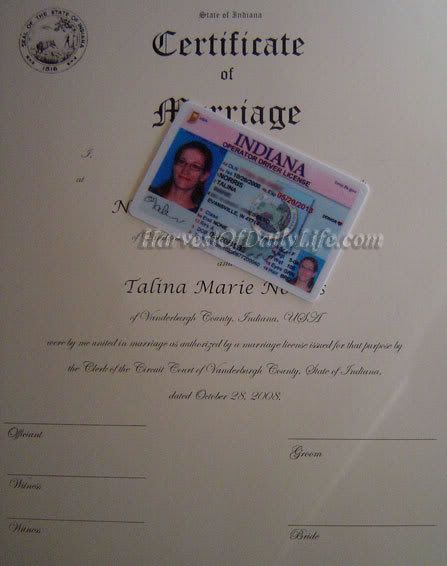 Later that morning we got up and headed out before N had to be at work. The goal was to visit the BMV again and actually get my darn drivers license now that I can pass the vision test. Yep, I failed the vision test and was denied a drivers license… Sweet huh?
Amazingly we were successful at getting my drivers license, too bad my license photo sucked! Next we headed out to the county courthouse to apply for a marriage license. Now that we both had valid state ID's we can apply to get married. So we got two major things taken care of today, go us!
I had several slices of reheated pizza, a banana, strawberry yogurt, apple juice, half a cup of coffee and a piece of dry bread all before passing out for my afternoon nap.
Oh and while N and I were reading today's baby development in our copy of The Pregnancy Journal; A Day-To-Day Guide to a Healthy and Happy Pregnancy
we got out the tape measure to record the waist and bust measurements for the book… I gained another full inch on my waist. I am not sure how but there you have it, I gained a full inch and a half around my waist and a half an inch of boobs in the last few weeks. Now go forth and place your bet in the Talina's Baby Weight Contest so you can have a chance to win some cash okay?