Guess who is hitting the boxed wine tonight big time, all thanks to the pain of petite wedding dress shopping… ME!
We went to David's Bridal and I tried on several dresses. The one we loved was Oleg Cassini CT258 and it was on display in the window of the shop. We looked through all 12 of the dresses in the shop that were in my size.
Nothing was coming close to the dress in the window (which is very similar to the initial Jacqueline Exclusive #9811 dress I found) so we told a consultant we love it and wanted to try it. It was a size 4 and it was about 4-6 inches too big on me. It was also $1100 which is out of our budget.
The consultant pinned the dress to give us an idea of how it would fit me if it were my size, it looked amazing but I was still swimming in it.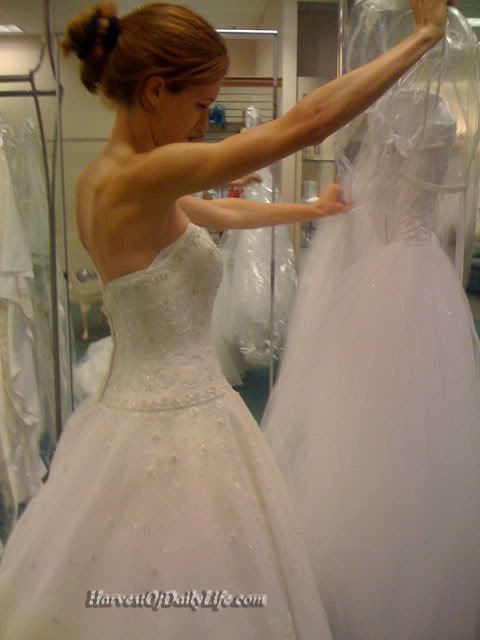 They said if we bought it in the next 24 hours they would take $200 off the price with the sale that was only running for another 24 hours. They also offered to order in the size 2 for me but I had to buy it first before knowing if it would fit or look nice.
I am sorry but I can't stomach paying that much for a dress plus how can I feel good about buying it without trying it on? Additionally I'll have to pay for alterations on top of the already out of our price range cost of the dress. And there are so many ladies on craigslist selling dresses who were suckered in to buying a dress they loved in a size that the store didn't have in stock to later learn that the dress didn't fit them. Ugh, no thanks buddy!
On the positive side I did get to try on a dress that I sort of liked that WAS my size. It was my plan B dress though… It is a David's Bridal #T8017. The picture on their site makes it look way poofy. When I put it on it looked nice. N and I both liked it but preferr the other style dress much more. Here are the shots of me in it.
Now we are scowering criagslist and contacting bridal shops around us to find either a:
Oleg Cassini CT258 in size 2
Jacqulin Exclusive 9811 in size 0
Forever Yours Intrigue 38223 in a size 1
To all my midwest blogging buddies, if I find one on craigslist in a city near you will you scope it out for me and let me know if it is actually in good condition before I rent a car to drive to the dress and try it on? I would love you forever!