I don't know if ghosts can actually make a room smell or not but I am convinced that is what we have been experiencing in our bedroom lately.
Being newly pregnant means my sense of smell is off the hook. I notice everything, including the stench of stale cigarette smoke sometimes when I enter the bedroom. Problem is we are both nonsmokers.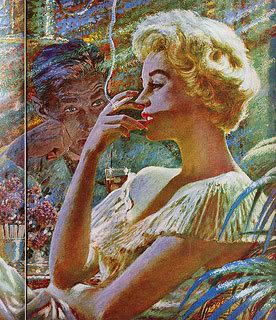 Both my parents were smokers so I distinctly know what stale cigarette smoke smells like and it hits me hard right away.
The stale cigarette smoke smell we've noticed only lingers for a short time, then it is gone but it is the strangest thing. I don't know where else the smell could be coming from, it has to be a ghost.
We only notice it occasionally when entering the empty bedroom. Both N and I have noticed the smell so it is not just be being sensitive. Oh, and we never notice it while relaxing in the bedroom.
Since the house is so old we figure we have a smoking ghost in our bedroom. We call her Louanne. I imagine she is older and elegant and we know she loves her cigarettes.
Since all we are being subjected to is the smell of smoke we are pretty okay with sharing a house with her, it is rather odd though.
Have you ever had a ghostly experience like this?