Yesterday N and I went to Owensboro, KY to do another mystery shop and to spend some quality time together. On our way to the mystery shop we stopped in at Abbingtons Bridal House to scope out some dresses.
Sadly they did not carry the Jacqueline Exclusive dresses I liked but they did offer me some constructive criticism about what kinds of dresses I should consider for my body type and the owner even jokingly asked me to model a dress in an upcoming bridal show because he loved my hair.
I also found another dress that I am  adding to the "I like" file. Here it is: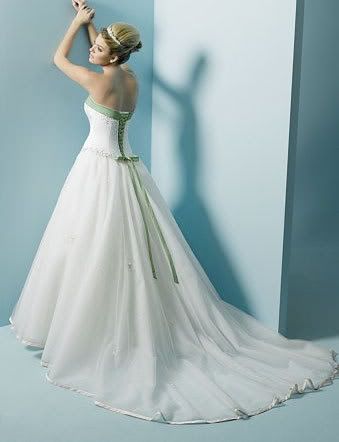 After we were done at the bridal shop (no I did not try and dresses on) we headed to starbucks for a pick me up and I ended up dripping caramel sauce on my yellow top, great!
We then drove around the historic neighborhoods and ogled the cheap and adorable houses for sale. This is one of N's favorite pastimes by the way. I am learning to get used to it, in the beginning it annoyed me beyond belief because it was like window shopping and I hate window shopping. When I see something I want I need to have it, falling in love with stuff I can't have is not my cup of tea.
Anyway we also visited the Ohio river bank in Owensboro and relaxed a bit. It appeared another couple had just married there and we watched them taking wedding photos. This inspired us to take a few photos of our own: