First off I want to let you all know that yesterdays blog post did have photo issues, it was not your computer. I am using Qumana to write my blog posts offline and then when we get to a WIFI spot I upload the post to the server. Yesterday it appears the post uploaded but the photos did not.
When we got to our overnight destination last night I attempted to upload the photos and found out that my September image folder on WordPress is not writeable or something, so I had to upload them to my photobucket account instead. If you click back to yesterdays post you'll now be able to view the photos. Sorry about that.
Okay, so on to the updates on day 3! We went from New Mexico, through the top west corner of Texas and Oklahoma then entered the southwest part of Kansas.
We awoke after staying the night at Ute State park in Logan, NM. When the sun came up we were happy to see that our site was right by the lake. We headed out to get a group photo with the lake in the background.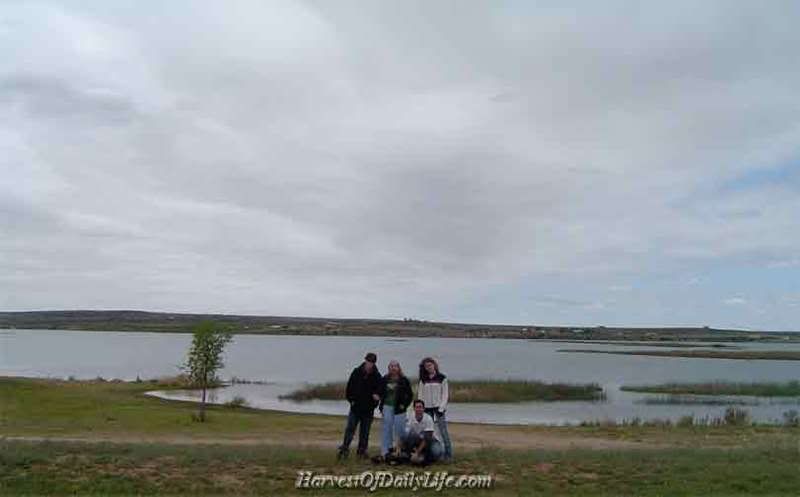 The morning started out with us visiting the campground bathrooms for shower time. It was sure eye opening! The showers were button operated and there was no temperate control so that was the first odd thing. Once we got undressed and in the shower we were unpleasant sprayed with what felt like a power washer. I couldn't believe how painful the water pressure spray was and it was not warm either.
My mother and I were cursing and going on about the painful experience. My nipples practically sprayed off and to top it all off the water would turn off every 10 seconds so you had to press the on button repeatedly while trying to rinse your hair and body. It was the most unpleasant shower experience ever!
If you are staying at Ute State Park in Logan, MN I would not recommend using the site showers. It think a sponge bath would suffice or you can just stay dirty. The pain is not worth it, trust me.
The entire day we were quite chilly and bundled up, it started with the cold showers and continued with the overcast weather. We did not encounter any real weather but we sure had to use blankets to keep warm while in the RV. We also didn't have too much planned for sightseeing but we enjoyed visiting things we spotted along the way like the "Back At The Ranch" Antique shop out near Dumas, TX where my brother got his girlfriend some cute earrings.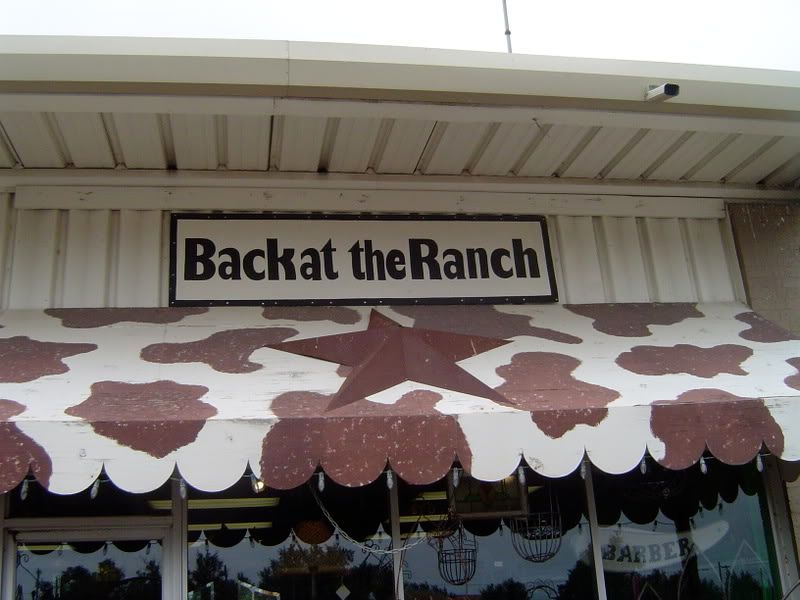 We were planning on stopping in at a starbucks to get our WIFI fix along the way but as fate would have it actually finding the hidden starbucks locations was not happening. We ended up driving down a residential street and "WIFI jacking" some persons unsecured wireless internet. We needed to map out a gas station and we were also on the hint for a Walmart so we could buy sweatshirts to keep us warm.
We were planning to hit the Dorothy House in Liberal, KS but failed to consider the time change between states therefore we arrived in Liberal about an hour and a half after they closed so we sadly missed that attraction.
Our evening destination was the Watersports Campground in Dodge City, KS which was also on a very pretty lake that we were able to enjoy. We treated ourselves to a dinner out at Casey's Cowtown Club where we enjoyed some fabulous Kansas steaks.
Check out the next posts in the series:
or you can checkout the previous posts in the series:
Powered by Qumana