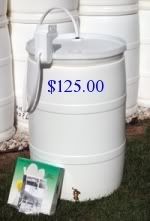 "Snow water harvesting can bring life to cold deserts and renew traditional heritage as an example of sustainability that all of us can learn from, globally. " (quote taken from: rain barrel.net)
Collecting rain/ snow for watering the garden is a great way to save water and lower your water bills! Lots of people are doing this and it is something I have been wanting to do for quite sometime. All of the collection systems I have seen are quite big and somewhat intrusive. I have honestly been putting off rain/ snow collection because we do not have a home of our own.
Today I was searching other blogs and I saw some smaller scale rain/ snow collection barrels that we could use and take with us when we leave our rental! I am super excited and really want to get the collecting system from: Aaron's Rain Barrels. Maybe a family member will get this for us for the holidays.. Wink, wink.
Sustainable living is possible no matter what your living situation, we are learning this everyday. We are learning about saving rain water for gardening, composting kitchen wastes, supporting local farmers through our local CSA and we are growing some of own food. Everyday we come one step closer to living more sustainable and you can too!
Here are some resources for sustainable living: