Nothing like crawling in to bed to find this:
Yeah, I know the picture is microscopic and hard to interpret thanks to some stupid photo file corruption that happen when the photo was captured (thanks for ruining my really funny photo Kodak!).
I'll try to describe it all for you, see the stain in the bed? See me laughing my ass off? See that yellowish thing in the middle of the stain? No, I did not pee the bed!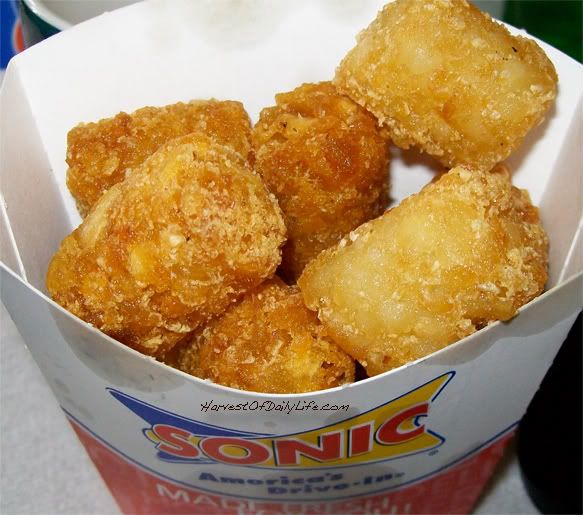 It's one of these greasy buggers under the covers on N's side of the bed.
N made the funniest face when he saw it, it was a cross between a look of disgust and curiosity.
My reaction "Awe, dang! Sorry babe", then we laughed hysterically.
You see we had Sonic breakfast burritos yesterday morning and then I got some side cramps so I moved to bed while eating my breakfast.
I had my nifty bed, lap table thing set up and had the food on it while I ate. I don't like greasy foods touching the bedding and I hate crumbs in the sheets!
The tots that came with the burrito were nasty (thanks Sonic for not cleaning out your fryer grease, my tots tasted like fried cheesecake, chicken and even a little fish all at the same time) so I didn't finish them. They sat on my table thing while I blogged, I even left the bed a few times to empty the bladder before discarding the remaining food.
I am assuming one of our cats snagged a tot off my plate, tried to eat it, was sorely disappointed (like me) and then buried it under the covers when they decided it was nasty (see Sonic? Even my people food grubbing cats rejected your sick tots! that really says something.).
The best part was N's face, oh and the grease stain on the sheets is pretty good too!
N wasn't quite sure what exactly he was seeing when he pulled the covers back. Around here you can find all sorts of nasty surprises thanks to the pets. He wondered if it was poop, pee or vomit but eventually realized it was just old greasy people food under the covers.
It made for a nice good 5 minuite laugh session for us that was sorely needed after our previous discussions that night about how N wont be getting paid paternity leave when Tater is born.