Why must Jack vomit almost every time he eats? Especially now that we have WHITE carpets?
Perhaps it is because he is apparently swallowing whole pieces of food as opposed to chewing them like every other animal in the world. Yep, those whole bits came right from his stomach!
Nothing like the sound of a cat preparing to vomit waking you from your afternoon pregnancy nap and when you try to quicky move him from the carpet to a vomit safe tiled area. BAM, explosive vomit stream shoots from his mouth and splatters the white carpet. AND, there is not carpet cleaner here for me to clean the mess up with. Double WTF!
Called N and told him to either pick me up so orange dye for the carpet or to bring home some damn carpet cleaner for the explosive vomit mess.
And now I present you with the view of our recently cleaned out basement at the old place.The stuff has been moved out, the carpets are vacuumed and we are just about done cleaning the place-
Wait! WTF is that in the corner? Is the wall leaking again and flooding the basement? I thought it was a dry day today…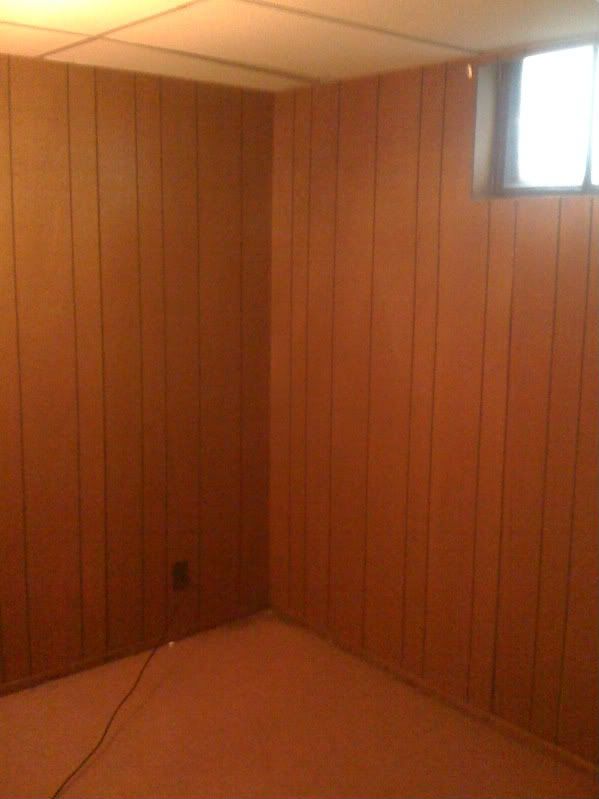 Oh, wait. We shouldn't be surprised. It is just mold, like I've been saying all along. Except now we can actually see evidence of it with our own eyes. Big shocker huh?
Notice how it is all pretty and furry it is growing on top of the carpet and up the wood siding? There are black, green and even some gray types all mixed together. Ooo, so enchanting – NOPE!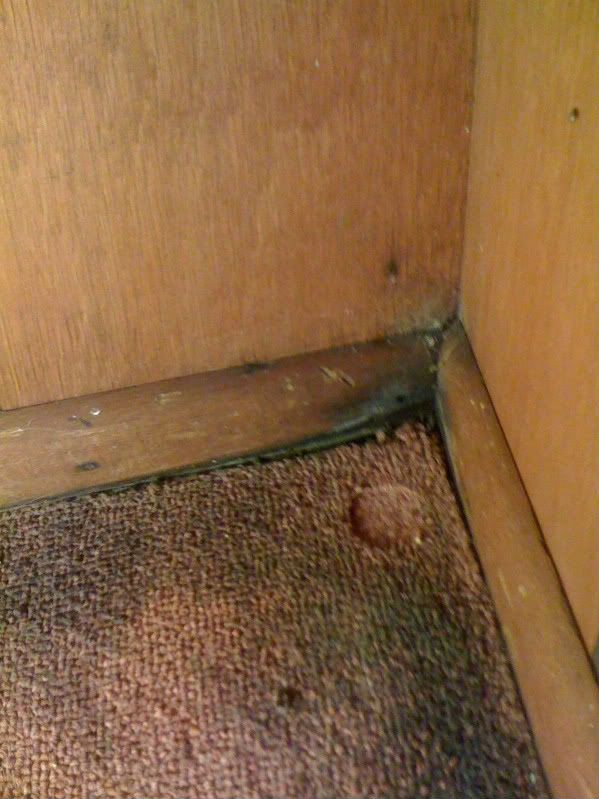 More like effing disgusting and super bad for the body! Sure mold isn't a big deal if you can clean it up with some bleach or something. Too bad the mold is growing under and now right on top of totally finished areas that if bleached will look severely destroyed.
It is no wonder N has been draining some major crap from his sinuses since we've moved to our new, not toxic house! Now if the slumloards don't set up a freaking move out inspection with us and take back possession of this shit-hole of a house I am going to get really nasty!
I am talking having all neighbors come over to walk through the house and observe it's current state, while we video tape the whole thing. Then we'll call the sheriff and give them the keys to the house with a copy of our video or something. Heck I might even put the walk through video online for the world to see and perhaps I'll share the address of the house, to warn any future tenants…
Seriously! All I can say is WTF? Okay, I am done now. Happy wordless Wednesday everyone.