In our house, we first fell in love with the puff pancake thanks to Nathan's TV reporter travels back in Arizona. If I remember correctly, a bed and breakfast he stayed at served a puff pancake called a "German Baby" or "Dutch Baby" (derived from the German pfannkuchen) that he really fell in love with. It was just egg, milk and flour that puffs up and is served with powdered sugar and a lemon.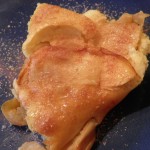 The recipe made it home with him, I loved it too and it was even a success when we tried the recipe with gluten free flour blend once we had to go gluten free! Since then we've made the recipe a variety of ways and the girls also really love the recipe.
One day when I couldn't find Nathan's "German Baby" recipe I found a Clafoutis recipe I wanted to try. The Clafoutis is another interesting recipe that is french and typically made with black cherries and a custard type batter. In terms of puffiness, the Clafoutis falls less that the "German Baby" recipe does and the Clafoutis isn't quite as dry.
This morning a puff pancake was requested by Everly so we whipped up a Clafoutis together and I figured it would be a nice recipe to share with you.
Today we are putting some sliced apples in the batter because the apples have been sitting a bit too long and are getting too soft for our tastes. In the past we've done it plain with a powdered sugar/ lemon sauce and also with peaches & cream.
Here is the Clafoutis pan going in the oven, see how creamy the batter looks?! Mmmm.
Here is what you'll need to get the recipe going:
Ingredients
1/2 cup of sugar + 1 Tbsp. to dust pan
3/4 cup milk
1/4 cup heavy cream, milk, yogurt or kefir (I used my raw milk this time)
3 eggs (pasture raised hens)
1 teaspoon vanilla extract
1 pinch of salt (I used my raw Himalayan sea salt: http://amzn.to/18BAiYh)
2/3 cup of all-purpose gluten free flour (I used Nameste's Perfect Gluten Free Flour Blend brand: http://amzn.to/18BAiYh)
3 cups of sliced fruit (today it was apples that were going south)
Instructions
Heat oven to 350 degrees.
In a blender, combine the ingredients and blend on high for 1 min, scraping the sides once.
Butter a 9-inch glass pie pan or a fluted porcelain tart dish, sprinkle the reserved 1 Tbsp of sugar over the buttered dish. Note, I used white sugar for the batter and brown sugar for the sprinkling.
Next pour in about half of the batter in the pan and arrange the 3 cups of sliced fruit on top of the batter.
Pour the remaining batter over the sliced fruit and bake for about 45-60 minutes or until the top puffs up and starts to turn golden-brown.
Here is what my Clafoutis apple puff pancake recipe variation looked like today after puffing up all nicely in the oven.
When you pull it out to cool at bit it does deflate slightly but not as much as a "German Baby" does. Once it's cooled down, slice and top it accordingly. Here is my apples & cinnamon sugar variation from today:
The basic "baby" or Clafoutis recipe is simple, just milk, flour and egg. With variations it morphs and becomes new each time. It can be done with whipping cream, yogurt, kefir or just plain ole milk and the fruit & topping possibilities are seriously endless (which I love)!
Here are some topping & fruit variation ideas we have tried:
Apple slices in the batter & butter with cinnamon sugar on top
Peaches in he batter & a peaches & cream topping
Skip the fruit in the batter but the finished pancake with the juice of 1/2 lemon & powdered sugar
Skip the fruit in the batter but make the batter with fruit flavored kefir or yogurt
What topping and fruit variations do you think would work well?
---
[yumprint-recipe id='7′]