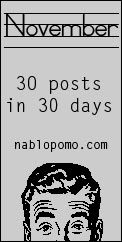 Today marks the end of NaBloPoMo and I made it. Woot!
We also went out and bought our christmas tree from a local boyscout troop. We didn't cut our own tree down this year as we usually do since we didn't have a feel for out new home town yet and we didn't have time to file for a permit. Next year we will try to follow tradition again.
Anyway we are drinking eggnog and decorating the tree up tonight and we didn't get any snow. And the basement is full of water again since it rained last night… We expect more water down there tomorrow morning.
Good thing we have a letter out to the landlord about the flooding that will start the resolution process. The thing is the basement looks like it was finished back in the 70's or 80's so if it has been flooding and soaking all the wood paneling and carpeting since then we are bound to be growing som mold back there right?
Know where we can get our hands on a mold test kit? We do want to make sure we aren't breathing in mold that has grown as a result of past years flooding. If we are watch out, I am going to raise holy hell!