Right now I am a sucker for malted milk balls… Mmmm Whoppers rock! I just made myself a bowl of strawberry banana Jello for later enjoyment and a yummy caramel apple is  too. The eating has not slowed down but the nausea has increased a bit. Still not vomiting though, yay me!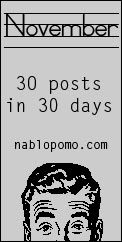 Today is the first day of NaBloPoMo, the idea is to blog every day for 30 days through November. I am pretty sure I can do this but my goal is to write more worthwhile posts through this month.
Pregnancy is something that is in the forefront of my mind so I'll probably be blogging about that like crazy.
Speaking of pregnancy I caved in and scheduled my first prenatal visit with a regular doctor. The appointment is for November 3rd, it will be nice to get the appointment out of the way but I am not looking forward to starting this whole game with the doctor.
When I called to book my appointment one of the first questions I was asked was "where do you plan to deliver?". Since only licensed doctors and nurses can legally practice midwifery mentioning a home birth to my prenatal provider is a no-no.
Then I asked some local home birth advocates about how the prenatal are handled when you may or may not choose a home birth. People just lie and string their prenatal doc along about their intended delivery until "firing" them right before the birth. I just can't believe this is practiced and accepted by so many women, this whole thing is just crazy!
So, instead of just being mad about it all I went ahead a drafted a long letter about how the law should be revisited and sent it off to every single government representative in the sate of Indiana. You can get involved too or even contact your own state representative by using this link.
Anyway, our baby's heart is already beating but we wont be expecting to hear the heartbeat at our 7 week appointment. Generally the first prenatal exam is fulled with recording family history, blood work and an assessment of the mothers general health.
I expect to hear that I am under weight, that I have a small vagina and a bunch of other obvious observations. We don't expect to learn much else about the pregnancy. Oh and I just wanted to add that we wont be able to find out the sex of the baby until mid January when I surpass the 18-22 week mark, generally that is when the sexing of the baby is done. It is okay though, we are betting it is a boy. Hey Witchypoo what do you think? Haven't you been rather accurate about baby sex predictions?