In the afternoon on day 5 after we left our awful experience behind at the Emporia RV park and finished up at the mechanics we hit the road and were hoping to find some fun to improve the day.
On the way out of Emporia we spotted a flea market in the parking lot of a shop. My mom and I jumped out of the RV in search of some lamps we could plug in to extension cords to provide lighting for us while we were in the RV on the last night (since our power converter thingy was now shot thanks to the Emporia RV Park). A guy at the flea market was selling stuff yard sale style and we got 3 old and abused yet working lights, we were pleased.
We drove for about an hour or so and then we saw a fun sign about Noglastia Ville, USA. It is a cute little gift shop and since my mom needed to buy herself a new bag for the airline (her current one busted out the zippers on the RV) we thought a cute souvenir duffel bag would be perfect.
We ended up stopping and spending some time at the gift shop. My mom got a cute bag, my brother got a poster and we bought 3 postcards we sent off to some people. Here is a photo of us outside the shop.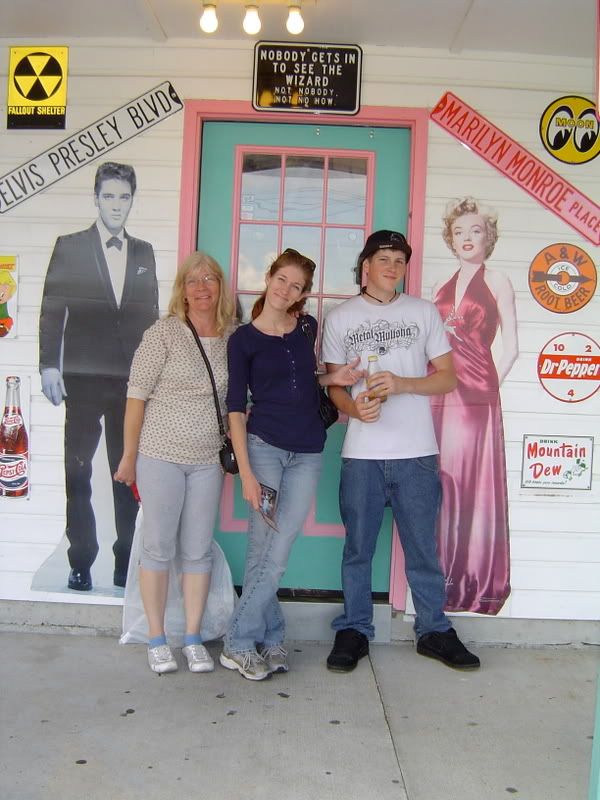 While we were in the shop we saw a fun flier for the Merimac Caverns so we grabbed it and headed for the car to debate our next move. After our shopping fun we agreed to take a detour from Kingdom City, MO (where Noglastia Ville was located) because we wanted to visit the Merimac Caverns. They were south of our current route (we were on the 70) and we needed to be on the 44. I was concerned that the only route to the Caverns was by a very small highway that takes you south of Noglastia Ville to Stanton where the Merimac Caverns are located.
After the family all agreed to do the caverns we headed down on our detour road. We took the 19 south to the 44 so that we could stay in Stanton, MO for the night  and visit the caverns first thing the next morning. Problem was it was such a long scenic drive and it was starting to get dark. Oh and N is still crazy charred from the tanning experience!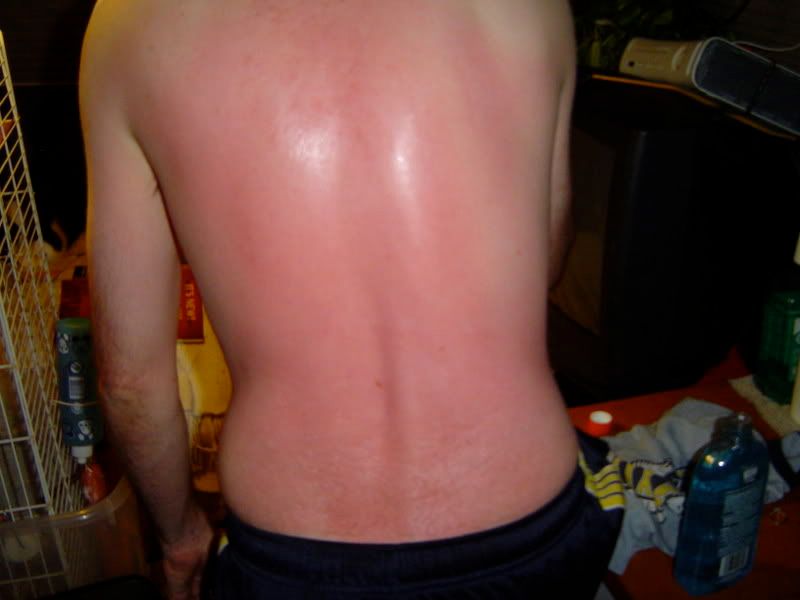 After the hectic morning we were all a bit on edge and I guess my mom opted to take an Ativan to calm her nerves while we were on the road. Our detour route was about 2 hours out of the way and my mom was way over being crammed in the RV with 11 other living things (5 cats, 2 birds, a bunny and 3 other people) so she popped her pill and sat back and relaxed.
Then she began getting all worked up, she was commenting that we must be lost and that the caves "better be worth it". Tensions were rising and we were all ready to be at our destination and to have some quiet time, too bad we still had to focus on getting to our destination for the night.
The animals were very lovey despite the crazy tensions between us humans, see how they were trying to lower our stress?
By the time we parked at our KOA (the Cross Eyed Cricket) for the night I was also now stressed and ended up blowing up at my brother who in turn became stressed and upset. We went our separate ways to cool down, like I said tempers were high by this point in the trip.
We had some spaghetti for dinner with shredded chicken in it (it was the only defrosted meat we had on hand). I guess my mom had started drinking her Captain Morgan while we were on the way to the KOA and the combination of the Ativan and the alcohol was beginning to take it's toll on her. As soon as she finished her dinner night she promptly threw it right back up up and fell asleep.
I know this is gross but my mom is the quietest throwing up person I have ever been around. I discovered this on the trip. She didn't even make a sound folks! After she threw up she was just fine, she wiped her face and then handed us the bowl of throw up and went to bed…
My brother, N and I went and explored the campground and then also turned in for the night. Eventful huh?
Check out the next posts in the series:
or you can checkout the previous posts in the series:
Powered by Qumana