Last night we got back to town at 1am. Our time on the party bus officially had ended! It was an interesting time. The party bus was so cool but not conductive to an 8 hour drive, things were a bit tight and uncomfortable but it made for some great memories. We had a great driver, Kevin, who took very good care of us despite the fact that one of our students hit the "dump" button instead of the "flush" button in the bus bathroom.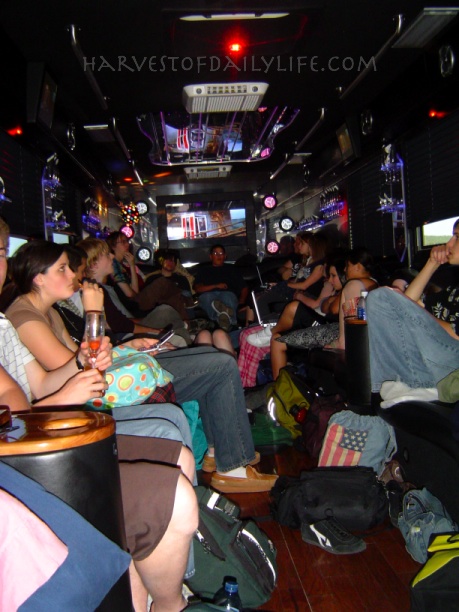 Our transportation was provided by InTheSceneLimousine, an Arizona Based transportation company for those of you who are wondering. We had a very positive experience with them on this trip, besides aren't the vehicles awesome looking?
The kids played movies on the bus, guitar hero, they could hook up their IPODS and play music, there were outlets under the seats so you could use your computer, charge your camera and so on.
The entertainment was endless but I have to say the most entertaining thing for a group of kids was a deck of cards. They played BS for hours and hours!
The most memorable time while at Disneyland was being run over by the stroller mob while trying to exit the park Friday night. We were wearing flip flops and I was ran over several times by strollers, those moms just mow you down!
The students got to play on stage in Disneyland on Saturday, that is always a super cool experience for music students and all our kids were well behaved on the trip. It was a good time and I am glad I went, I am beat now but I have today to recuperate!
I'll share more pictures later, but for now I need to shower and drive down to phoenix to pick N up and bring him (and Dixie) home! Oh, gas is $3.99 a gallon now, before we left for the trip it was $3.89… It has increased $1.50 in the last two months, it is sickening.
Oh, Keep your fingers crossed for us, we are expecting to hear back about N's job interview next week!