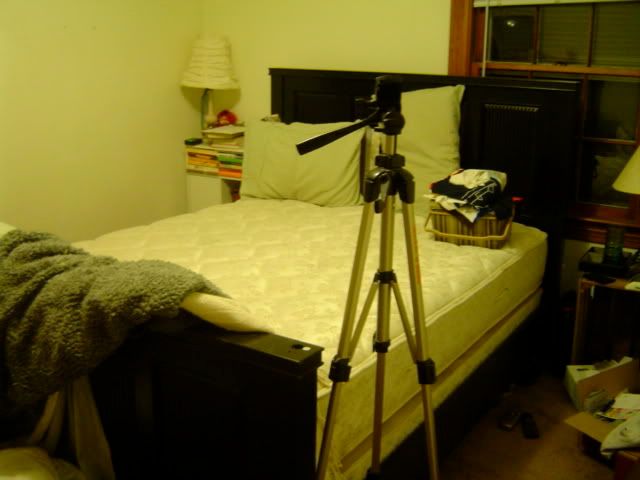 Just because I have a tripod set up at the end of the bed does not mean we were making porn! I am sure that is what the neighbors are thinking though.
It's a kind of funny sight and thought so I snapped a photo of it and thought I would make it the title of this post. Nice huh? I am sure I'll get lots of 1 second hits from people searching for homemade porn now huh?
Seriously though I was recording a video demonstration for another craft article I wrote. As I mentioned yesterday I sold another article and have been feeling highly motivated to write these days. Plus the search terms on this blog have been super instructional craft project oriented. The people have spoken and want more craft instructions so I got busy writing some more tutorials.
I sat down and wrote up an article on how to make your own t shirt quilt from shirts you have collected over the years. I used our bed to record the demonstration video that goes with the article and I just happen to leave the tripod at the foot of the bed. Nice and random huh?
What? You want to see a t shirt quilt? Well lookie here: