Well yesterday was the beginning of my 24th week of pregnancy. Other than the belly button pain and the occasional rib cage or back pain all is well. The bump is growing but I was surprised to see that I didn't gain much weight over the month.
I've got a prenatal appointment with the OBGYN next week and I am sure she'll make a comment about the lack of weight gain this month but N and I aren't worried. According to all our reading Tater is just starting another growth spurt so I'll probably pack on several more pounds shortly.
It seems my weight gain is not really a gradual thing, I pack on a good amount one month which puts me over what is deemed normal then the next month I stall out and don't gain much… It is hit or miss really. Good news is I am still eating like a mad woman and I've put on 20 pounds since becoming pregnant, I think gaining another 20-30 pounds in 3 months is not going to be a problem.
This morning I was happy to see it was again a warmer day and we were able to open up all the windows and enjoy the fresh breeze. We are fresh air and sunlight people. We love our windows to be open so winter is sometimes a downer for us, especially when we don't get enough pretty snow.
The morning email checking was nice with the cool breeze blowing through the house. Andrew one of our cats climbed in to my lap and took a nap as soon as I got up. These days all the pets have been less interested in hanging out with me, probably because they sense Tater is coming. So it was nice that Andrew came to see me today.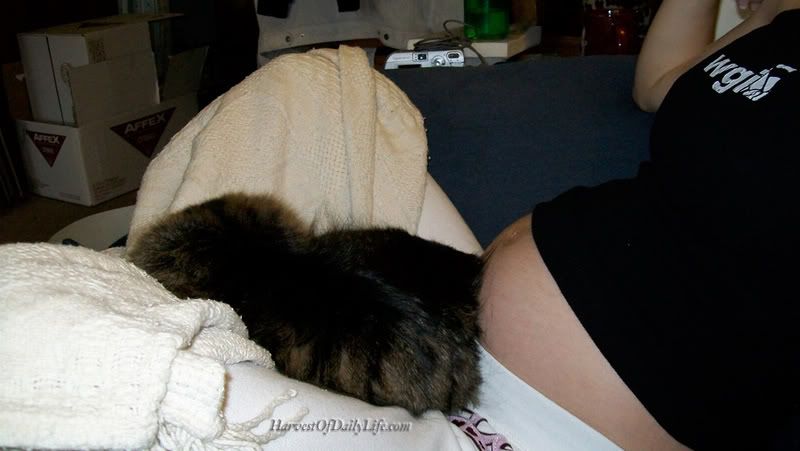 N snapped a photo of the love fest on my lap so everyone could see how the belly is looking…
It is kind of funny how Tater responds to the cats purring. She can totally hear them and she will kick when ever they are purring near my belly.
I told N she is either going to be super soothed by the purring when she's born or she'll go crazy wanting to play with them when they purr. What do you think?