Yeah, so thanks to Witchypoo's talks of birthday cake and wine I was having my own cake craving yesterday. She recommended I search for the 5 min cake in a mug recipe for some instant chocolate goodness and I found it here.
Calls for tablespoons of sugar, flour (specifically cake flour), cocoa powder, milk, oil and an egg. Seems simple enough but then you microwave it. Sort of strange if you ask me but what the heck?
So I combine my all purpose flour (didn't have cake flour, is there a difference?) , sugar, cocoa and the egg.

Then I added the milk and oil and mixed the heck out of it as directed.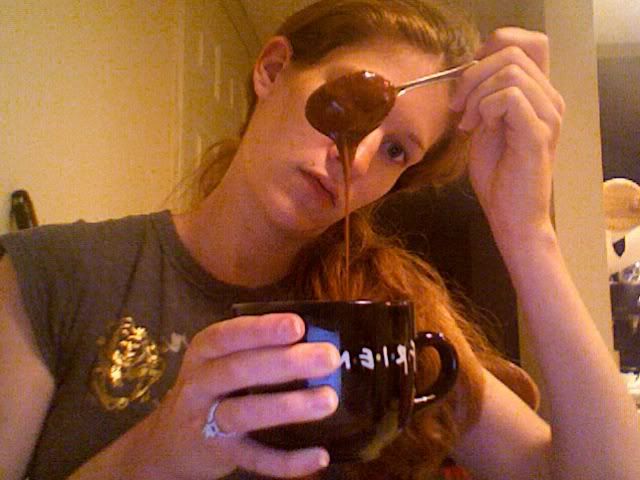 Popped the mug in to the microwave and stood back. Our microwave makes this strange sound when you nuke stuff, like it's got a radiation malfunction or something. I never stand near it because of the sound. I am paranoid. LOL. Plus if the cake exploded I didn't want hot nuked batter all over me.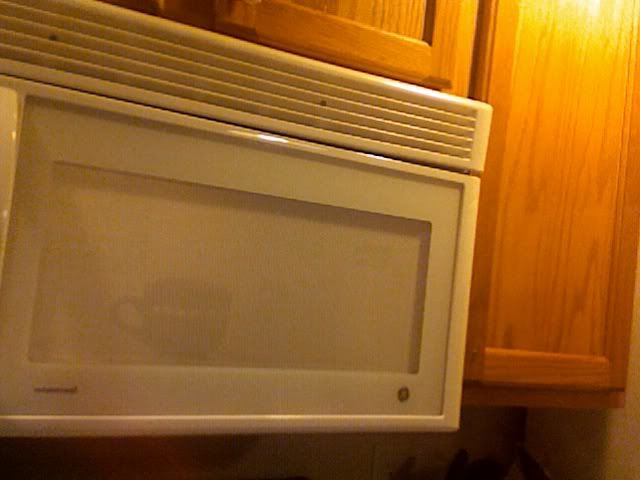 When 3 min were up I took out my creation and inspected it, looks questionable. It has solidified though, I guess it could be good. Looks strange though, see…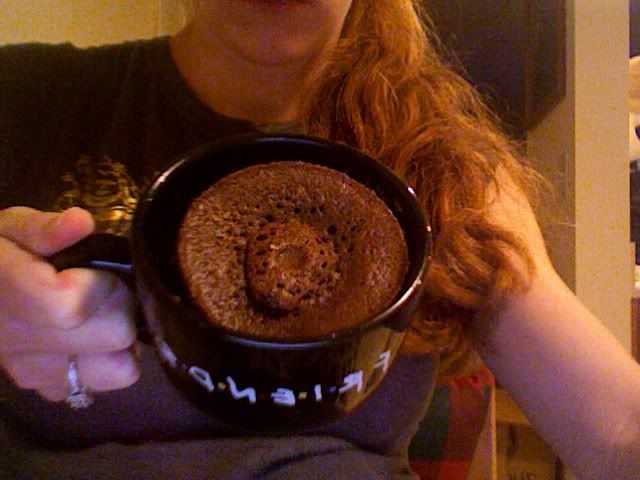 Once it cooled, it came out of the mug and on to a plate. It had all these air bubbles and was a strange consistency from the looks of it. Still to soon to know if it is good though, the darn thing is piping hot!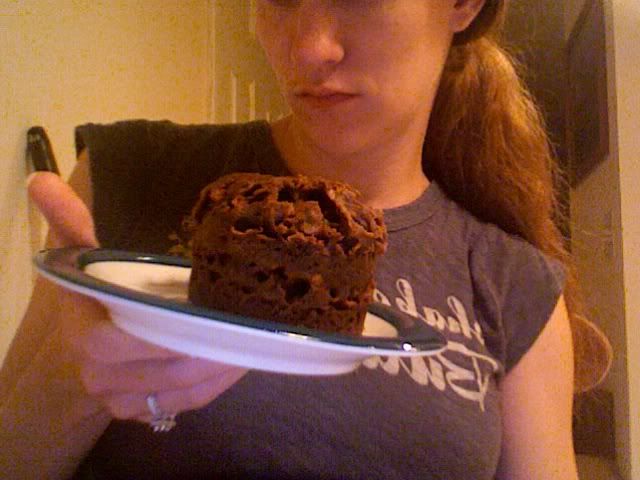 I slathered some frosting on it, I tasted it and cut it in half for N and I to have after dinner. Upon first taste It wasn't bad. When I cut it in half though it was pretty brick like.
I think it came out pretty dense and not as fluffy as I would have liked (you know like normal cakes). I bet it was the flour, had I used this flour substitution guide (or the flour they called for in the recipe) I would have been better off.
I had a few bites and was done, N ate his whole half. See, he always eats my bad food because he doesn't want to make me feel bad. LOL.
It was a fun thing to test out but it did not cure my preggo cake craving. I guess I am a cake snob or something. Today I'll make brownies to try satisfying that chocolate urge of mine since I seem to be bursting with energy.
I used that energy burst to get my bags packed and am just about ready to leave for The Farm this weekend. I am going to an Evansville BirthNetwork Meeting on Thursday to meet with some fellow mama's, get some support for my upcoming delivery and to meet the local La Leche League leader.
Only base we haven't covered is finding a pediatrician in the area for when we are home from The Farm and ready to think about vaccinations (oy). Oh and Gabby is finally out of heat and done with the pissing (I think), woot. We've gotta get her fixed after Tater arrives, her and Boner!