We awoke early Monday morning to this sight of about 1/2 an inch of snow. What we normally consider a "dusting". Well we got to see first hand how the town shuts down over winter weather…
Yeah so I wrote this post yesterday morning talking about how silly it was to see the entire town just shut down as a result of the measly amount of snow. Then i settled in and watched the inauguration and tweeted my thoughts.
Well now that I've come back to the blog today to respond to comments and to work on today's post I realize that somehow this post's completed version just disappeared from the database and is no longer published on the site. WTF? I am not going to lie I am a bit peeved right now!
Well here are the photos I wanted to share with you when I initially tried sharing this post. I have no idea what I actually wrote about them since all that data is now gone. It seems many comments that were made last night were also lost and I have no idea why.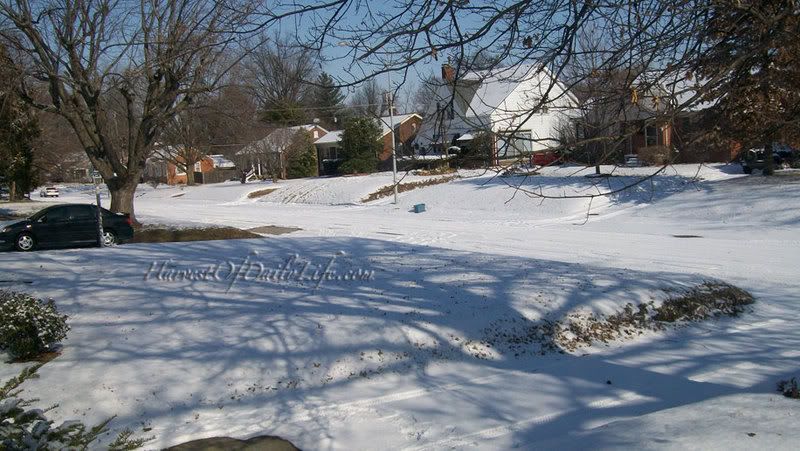 Oh, I know I also wrote about how we got to feel Tater Tot's first noticable movements on Saturday. It was exciting and N was so pleased to be able to experence the kicks. Now he has a way to be connected to the baby, through the kicks and movements.
You know these first movements were not anything like what my pregnacy books explained. The books say that you'll feel like a fluttering or something subtle but I had full on body checking going on inside me! It was like a greamlin was inside me trying to scratch and rip it's way out.
So yeah, I think that is all I wrote about when I drafted this post yesterday. Also if you are looking arround here and notice that a comment you left is now missing don't take it personally, my blog just ate it or something and now it (like this post) are lingering in cyberspace lost and making me crazy.
Oh, I also vagely recall pimping my baby weight contest when I drifted this. So yeah, I now weigh 112 at 17 weeks which is 12 pounds of gained weight. Now go forth and place your bet in the baby weight contest so you can win cash! Also, for those of you harassing me I have now added Tater Tot's wishlists to the side bar of this blog to make it easier.
Now if this post dissappears once I publish it I am going to scream!